Nigerians Engaging In Criminal Activities Abroad Do Not Represent Our Values – Buhari
Nigerians Engaging In Criminal Activities Abroad Do Not Represent Our Values – Buhari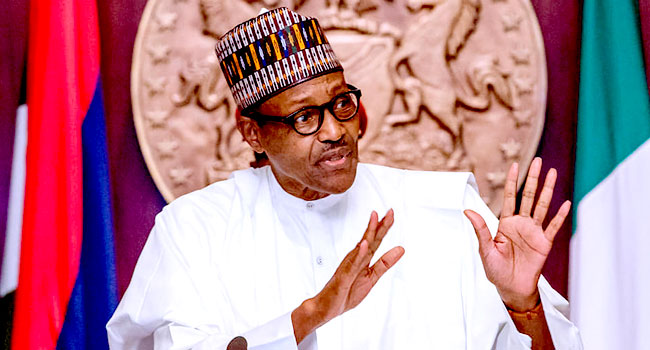 President Muhammadu Buhari says that the few Nigerians abroad indulging in criminal activities do not represent the values of the majority of the people of the country.
President Buhari disclosed this on Thursday in Yokohama, Japan while meeting with leaders of the Nigerian Community living in Japan on the sidelines of the Seventh Tokyo International Conference on African Development (TICAD7).
"Let me also say that there are few Nigerians in the Diaspora that are giving us a bad name by engaging in criminal activities. These Nigerians are a minority, they do not represent the values of our country, and I plead with them to change their ways.
"We will not condone any crime whether at home or abroad, and we will also not allow these Nigerians to define us as a people with a reputation for criminality," he said.
READ ALSO: Buhari Woos Foreign Investors In Japan, Says Nigeria Has Attractive Opportunities
The President according to a statement signed by his special adviser on Media and publicity, Femi Adesina also urged Nigerians in Japan to be good ambassadors of their fatherland.
"I am personally very happy that there are millions of Nigerians all over the world, like you here, who are truly making us proud," he said, describing the majority of the over 17 million Nigerians in Diaspora as "the face of Nigeria globally and our ambassadors for good,"
President Buhari urged members of his audience to continue to contribute their quota by helping to develop their host country and Nigeria as well, adding that: "I look forward to your inborn gift, ability, and capacity in taking up this challenge."
Credit: Channels TV
Copyright Nigeria News Live 2018-2020 Chat with Us on Whatsapp on 08059984535
Send us enquiries, press releases.
Advertise with us.